According to the official statistics, until now, over 1 billion people in more than 180 countries are using WhatsApp to keep in touch with friends and family members. Obviously, this cross-platform APP plays an important role in your daily life. As you know, this APP saves kinds of data you sent and received, such as messages, images, documents, videos, contacts, and more. When you are enjoying its convenience, you also bear the risk of losing these data accidentally. As iPhone is very popular all over the world, "restoring WhatsApp messages on iPhone" becomes a hot topic at the same time. So, this post will mainly focus on this issue then.
Can You Retrieve Deleted WhatsApp Messages on iPhone
Generally speaking, after you delete iPhone WhatsApp messages, these data will not be erased from the device immediately. As a matter of fact, the data tracks are just marked as empty so as to new data to be written to. As long as the deleted iPhone WhatsApp messages are not overwritten by new data, they can be recovered by a piece of professional iOS data recovery software. (Maybe you like it : How to import phone contact from gmail)
However, if there are available iTunes and iCloud backup files, you are still allowed to restore those deleted iPhone WhatsApp messages although the primary data are overwritten.
According to Apple official recommendation, you can do iPhone WhatsApp recovery by restoring them from the previous iTunes and iCloud backup, and both of these two ways will replace all the original iPhone data finally. However, can you just retrieve deleted WhatsApp messages on iPhone? The answer is positive. Once you have a piece of professional iPhone data recovery software, you can make it. And MiniTool Mobile Recovery for iOS is a good option.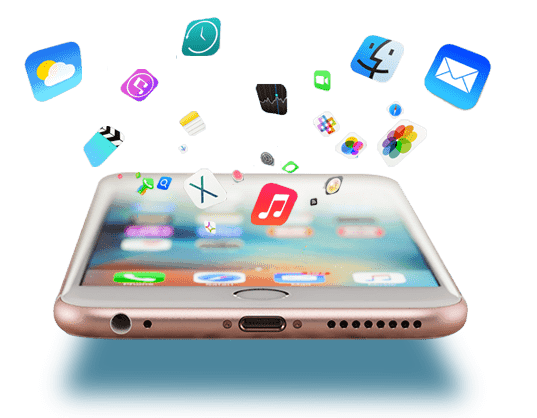 This software has three recovery modules and they are "Recover from iOS Device", "Recover from iTunes Backup File" and "Recover from iCloud Backup File". With this software, you can save the recovered WhatsApp messages on iPhone/iPad/iPod Touch to your computer directly. If you are not sure that whether this program works for you, you can first apply its Free Edition to verify its recovery functions. Besides, as for operating system compatibility, if you are using Windows 10/8.1/8/7/Vista/XP, you can download and use the Windows version; and if you are using Mac OS X 10.6 and the above versions, you should choose the Mac version of this software.
How to Restore iPhone WhatsApp Messages
Three different ways will be listed as follows. You can read them and select a proper one according to your individual situation.
Way 1: Restore Deleted iPhone WhatsApp Messages from iTunes Backup File
In general, if you are sure the deleted WhatsApp messages are saved on the previous iTunes backup file, you can use "Recover from iTunes Backup File" module, which is also the first recommended way. But at first, you should make sure that you have installed iTunes application and the iTunes backup file you are going to use is stored on the computer. Then do as the follows tell you to do.
Step 1: Open the software, choose the corresponding recovery module from its main interface and the available iTunes backup files will be displayed on this interface. If there is more than one backup file displayed on the interface, you can identify them from their "Name" and "Latest Backup Date". But if the target iTunes backup file is not shown here, you need to add it manually by clicking on the lower side blue button "Select", and pick it out from the computer. Then choose the relative one and click on "Scan" to continue.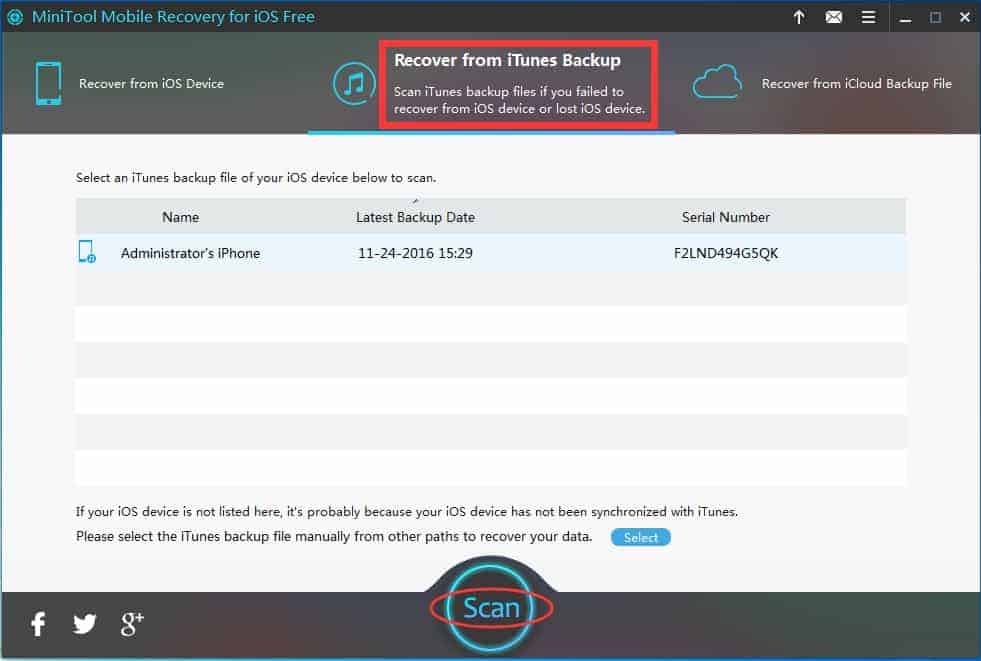 Step 2: You will enter the scanning result interface then. Choose "WhatsApp" from the left list and you can preview them one by one on this interface. Actually, this software will show you all the deleted and existing WhatsApp messages. If you want to view the deleted ones only, you can switch the upper side button "OFF" to "ON".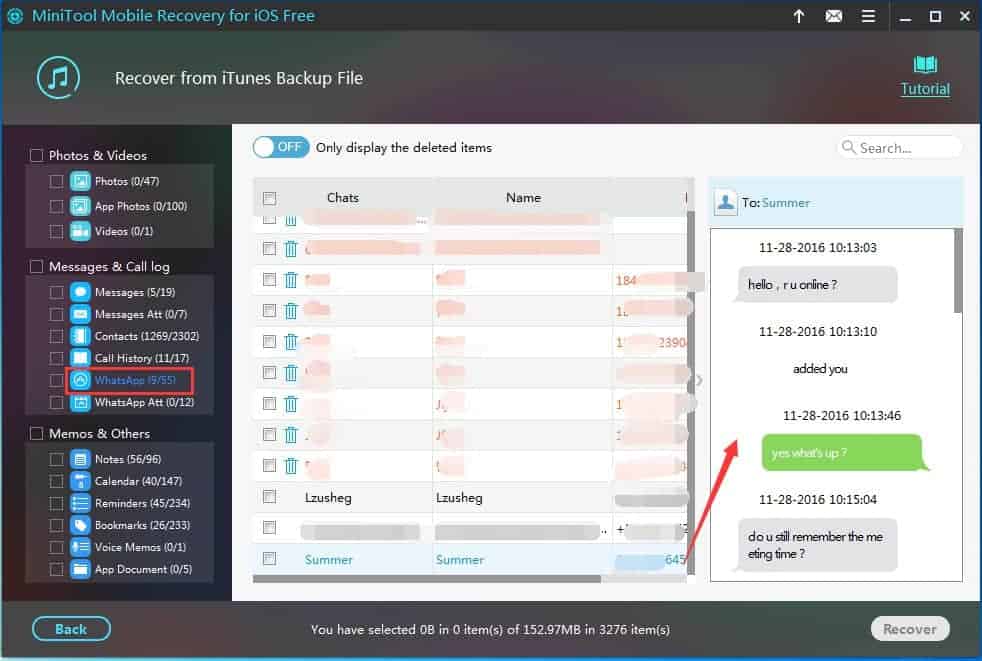 Way 2: Retrieve WhatsApp Messages on iPhone from iCloud Backup File
The module "Recover from iCloud Backup File" enables you to get the deleted iPhone WhatsApp messages from the previous iCloud backup file. But you should notice that this software can't detect iOS 9 and the latter version iCloud backup.
The detailed steps are also very simple, and you can see the guide in this post: Recover from iCloud Backup File.
Way 3: Recover WhatsApp Messages from iPhone Directly
If there are no available iTunes and iCloud backup files, you should consider using the third recovery module: "Recover from iOS Device" to recover WhatsApp messages from your iPhone directly. But this way is based on the premise that the original data are not overwritten by new data. So, just try to stop using your iPhone as soon as possible once you discover that the important WhatsApp messages are deleted by mistake.
Open the software and then connect your iPhone to the computer with USB cable. This software will detect the device automatically. Then, you should click on "Scan" button to continue.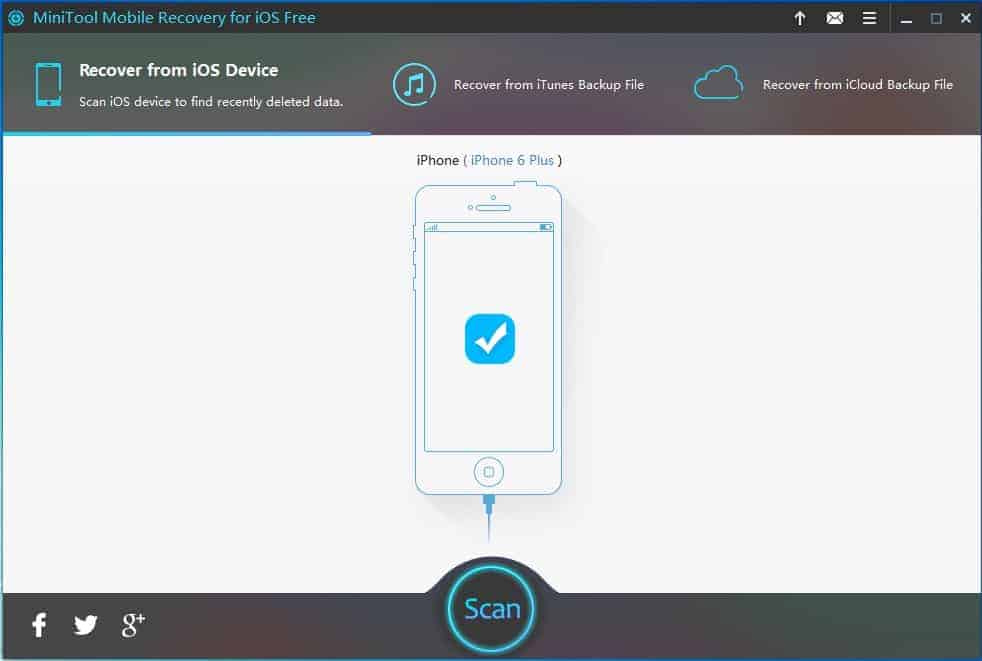 When the scanning process is finished, you will also see the results interface. The next operations are the same with way 1, and they will not be repeated here.

Obviously, the operations of these three ways are very simple. All you need to do is to select the right module and handle it step by step. With this tool, "restoring WhatsApp messages on iPhone" is not a difficult problem anymore.

About Author: