Mito Fantasy T77 is the latest android tablet launched by local producers. Super cheap tablets that are reportedly in the Atalanta 1 millions already brings the Android operating system version 4.4 KitKat. With a price that is cheaper but carry the Android KitKat will certainly attract a lot of consumer interest towards this android tablet. To further support and the interests of consumers, this android tablet also at bekali with specifications that qualified and also features that are interesting and fairly complete.
Mito expects that this android tablet is able to compete with other competitors. If in the lyrics of the specification and the price it's android tablet is quite able to attract more consumers, especially for middle-class down because the price is very friendly. And what are the advantages and disadvantages of this android tablet and as to whether the full specification. We will try the full mengulasnya of the specification, this is advantages and disadvantages of tablet android Mito Fantasy T77 .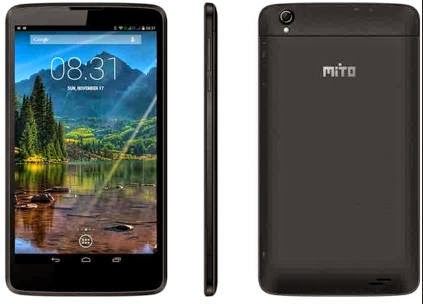 Specifications and features of the T77 Fantasy Mito
MediaTek Chipset performance: MT6572
Quad core processor 1.3 Ghz ARM Cortex-A7
Mali GPU graphics processor-400
The Android operating system version 4.4 KitKat
network: 3 g HSDPA Network
screen: Capacitive TFT touch display with WSVGA resolution 1024 x 600 pixels
measuring 7 inches
memory: 4 GB internal memory and a microSD slot is available with 32 GB
512 MB RAM capacity
camera: 2 MP resolution main Camera is equipped with a LED Flash
Front VGA quality camera
dimensions: thickness of 8.9 mm
battery: 2600 mAh
features: Dual sim, Wifi, Bluetooth, micro USB, etc.
Mito Excellence Fantasy T77
Here are the complete specs of the tablet android Mito Fantasy T77.
low prices is one of the hallmarks of this Fantasy Mito T77 for being able to attract consumer interest especially among the lower middle
the operating system on the stretcher is the latest operating system and is currently in use on your smartphone or other advanced gadgets that the Android operating system KiKat
Anyone equipped with a quad core processor speed of up to 1.3 Ghz which is certainly able to optimize the performance and the performance of this android tablet
Already supported with the HSDPA 3 g network making connections become faster and not lelet
Was thin so it looks more elegant
storage capacity or memadahi enough memory and a microSD slot is also available to extend and augment the storage capacity
Weakness Of The Mito Fantasy T77
In addition to having numerous advantages and good specs, android tablet Mito Fantasy T77 also have an account with some shortcomings. The following are some of the drawbacks of the Mito Fantasy T77.
RAM Capacity is still very small, only 512 MB
the quality and resolution of the screen is still low WSVGA 1024 x 600 pixels
battery power capacity of only 2100 mAh, still relatively small for the size of a tablet
the camera resolution is still very small, especially the front camera is still using a VGA quality camera type drawing is insufficient so that less supports to do video call or simply take pictures selfie
So our reviews of specifications, advantages and disadvantages of tablet Mito Fantasy T77. I hope the information is useful for the readers, especially those who are looking to buy this android tablet.
Read also other articles about the specifications, as well as the advantages disadvantages of Mito A363.